Billings Man Offers Rave Review Of His Results With Emsculpt Neo
Bryan Bickham first learned about EMSCULPT NEO® through a colleague at work. The colleague asked Bryan if he wanted to "get abs just by laying down." Bryan, being intrigued, called Premier Aesthetics to learn more.
When he arrived, his experienced technician, Jenna, explained the whole process.
"It's an amazing technology," Bryan said. "I mean, yeah, you think about these kind of things, but it actually exists now."
The first of it's kind, EMSCULPT NEO® is a revolutionary procedure that simultaneously delivers heat and magnetic energy for breakthrough, non-invasive body shaping. This combination simultaneously delivers more fat reduction and more muscle growth compared to any single gold standard product.
"The first time it tickled," Bryan said. "It really feels like you just got done doing about your 270th sit up and you're halfway up. Like, that's the intense feeling you get."
Now, more than six weeks after his initial and subsequent treatments, Bryan is seeing real results with Emsculpt Neo.
"Where I'm at now versus six weeks ago is incredible! My core is so much tighter. You can feel the definition just in my stomach compared to six weeks ago where…there was a little bit of muscle there but it was not like it is now. I can definitely tell in my back as well, as far as it's taken away some of my back pain because I've built that core strength and it's more support for my back."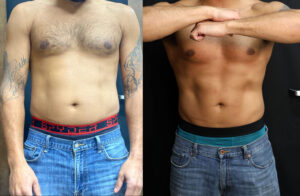 Now, Bryan has definition in his abdominal area. He says it's the first time he's had abs since he was 18 or 19 years old.
So how can you tell if Bryan's new abs are directly related to his EMSCULPT NEO® treatments? Bryan doesn't regularly go to the gym. "This whole treatment," Bryan said, "and the results that I'm getting, is strictly from the EMSCULPT NEO®."
Now Bryan's main objective is to enjoy his newfound abs and maintain his new look into the new year. "This is the funny part," Bryan said. "It's not like I've worked hard for these abs, because I really haven't, but I do want to keep them, so I'm going to work hard on keeping them."
To see Bryan's full interview, we encourage you to watch the video below.
If you would like to schedule a consultation to learn more about EMSCULPT NEO® and what it can do for you, please call 406-794-0003 or visit the EMSULPT NEO® page on our website.