As a supervising physician at Premier Aesthetics, I thought it would be a good idea for me to attend the training session on our new laser, the "Moxi". Our providers, who are aestheticians, physician assistants (PAs), and specialty nurses, know this stuff inside and out. I think they can tell the difference between when I nod knowingly (but clueless), and when I actually know what I am talking about.
The laser physics are quite interesting. The Moxi is a "lighter laser" which specializes in skin refreshment and the treatment of pigment such as sun damage or melasma. It isn't as aggressive as our "Halo", which gets after fine lines and large pores and such, and the Moxi has a shorter recovery period. I made a few sage observations during the training, using such words as "microns" and "millijoules".
That was all well and good until Jaclyn, one of our aestheticians, came over and began applying an anesthetic cream to my face. Tricia Kelly, our aesthetic supernurse, opined that "you won't know the treatment unless you have it done."
This caused me acute anxiety. I had not counted on being lasered today. I did nearly two thousand heart surgeries in my former life, before plastic surgery, and never felt the need to have heart surgery myself. But now I had to either admit to cowardice or suck it up and have the laser. My face was becoming numb, hopefully from the cream and not from panic.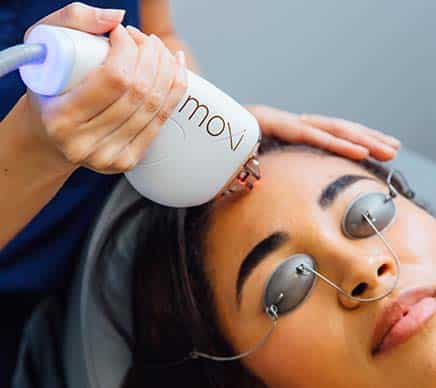 The laser has levels 1, 2, and 3. I suggested the first level, which was apparently unacceptable to my providers. I braced for the burn.
What an anticlimax. There was a very slight buzzing sensation, and that was it. I had them turn it up to level 3, and that was fine, even in the area without anesthetic. As I write this, I am mildly pink, but there is no pain. Lips are a little numb yet. I asked the staff if I looked better. They said they do skin resurfacing, not miracles.
Dana Fink PA, Kae Sukut PA, Stephanie Morup PA, and Vicky Ahlgren aesthetician will also be using the Moxi, and with their experience with our other lasers, will design treatments to optimize skin rejuvenation and pigment treatment. What impressed me during the training today (other than my undaunted courage as a guinea pig) was their depth of knowledge in this stuff. It is way more sophisticated than I had imagined, and the intellectual curiosity and professionalism among our providers was heartening.
I think our providers were encouraged by my participation. "If a wimp like you can do it, then anyone can." That is not exactly what I was shooting for.