Premier Aesthetics proudly offers a new, non-surgical fat reduction treatment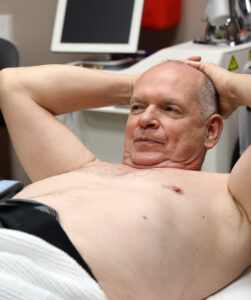 If you are looking for a way to sculpt and tighten muscles in targeted areas of your body, Premier Aesthetics now offers non-invasive EMSCULPT NEO® treatments. EMSCULPT NEO® is a first of its kind, FDA-approved, revolutionary procedure that utilizes magnetic energy and heat to reduce fat cells and promote muscle growth.
Our providers at Premier Aesthetics tailor treatments to your specific needs, and in just 30 minutes, through the use of radiofrequency and HIFEM+ (high intensity focused electromagnetic field) you can begin the process of eliminating fat and building muscle.
Areas that can be treated with EMSCULPT NEO® include the abdomen, buttocks, inner thighs, outer thighs, front thighs, back thighs, biceps, triceps and calves.
Our very own Dr. Alan Muskett has a few problem areas of fat he'd like to target and destroy. Here's a behind-the-scenes look at his experience with EMSCULPT NEO before and after treatments.
Contact us today to schedule an appointment or consultation and see the results of EMSCULPT NEO before and after.